Planting roots: Q&A with tree planter Sarah Ambroziak
March 3, 2022
---
By
Maria Church
---
Presented by: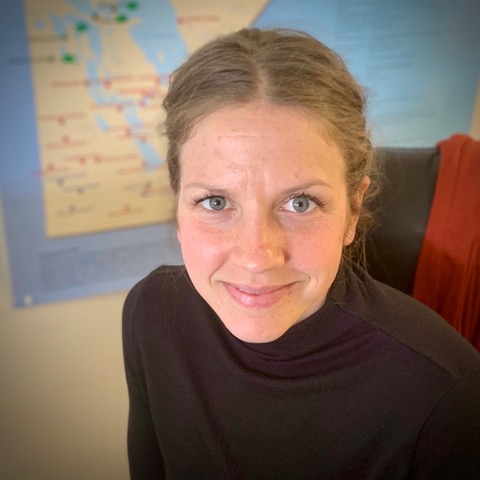 Sarah Ambroziak has deep roots in tree planting. She spent eight years in the woods, planting more than 1.1 million trees in Ontario, Quebec, Manitoba, New Brunswick and Alberta, before transitioning to a management role with her reforestation company. She's now the manager of workforce development and engagement for Dexterra Group's workforce, accommodation and forestry, Outland, and is transitioning to another role as the executive director for Dexterra's new non-profit for community initiatives. Tree planting, she says, is the perfect opportunity for young people to get outdoors, meet new people and explore new things, no matter your background.
CFI: What led you to a career in the world of tree-planting?
Yeah it's funny I don't actually have any formal educational background in forestry. I really did get started as a tree planter. I started in my second year of university. I had a roommate who went tree-planting and he came back after the season and he had lost 30 pounds and he was super tanned and he had scrapes and bruises and such an amazing cache of stories from the summer, and I had spent my summer working in an office and I just hated every second of it.
I realized this is the job for me. I applied and was picked up by Outland. That was in 2006. I continued to tree plant for eight years after that. I put myself through university and had lots of international travel. Then in 2012 I went back to school for a post-graduate program in international development. I thought I was going to work for MSF [Doctors Without Borders] or some similar organization overseas.
But then the summer after I wrapped up that program, I did an internship with Outland's Youth Employment Program. It focused on engaging Indigenous youth in the forestry sector specifically – it made me realize that I could apply my skills domestically. Since then, I have been working in the Indigenous space trying to support engagement in the natural resources sector so that includes everything from tree planting to brush cutting to forest fire fighting.
What is it about your job that you enjoy?
I now have a foot in two worlds. I'm still working with our tree-planting division and I really love it – it's where my roots are.
I think tree planting is amazing because it's such an opportunity for young people to explore new things and grow a network of friends. It's one of the rare industries where the fundamentals haven't changed. Technology hasn't really impacted tree planting. But small changes in the new cohorts are bringing are increasing productivity and increasing their pay cheques.
On the other side, I really like working in the Indigenous space and capacity building. I enjoy seeing the sector's changes and commitment to reconciliation and to inclusivity. It's not keeping pace with where it should be, but I think genuine efforts are being made and I like participating in that and seeing it happening organically.
Do you find there are certain challenges or hurdles for women to enter or stay in the industry? And have you faced any?
As a tree planter, something that I really loved, once you get there you are living in this microcosm world where nothing really matters on the outside. If you work hard and you were good at your job, you could gain a lot of respect no matter who you are or where you came from. You didn't need any type of credentials.
That said, certainly there are challenges. It's hard to really pinpoint what they are, but an example is, as a woman driving a vehicle, your male counterpart could get the vehicle stuck 100 times and nobody would say anything. But as a woman they would say, "Oh she just doesn't know how to drive." I remember how self-conscious I was driving. It's just one example of how it permeates throughout your day.
That concept of having something to prove has stuck with me throughout my career. I would kill my body trying to keep up with the high ballers, who were almost always guys.
There was an added pressure to prove my abilities. It motivated me – and I know it doesn't for everybody – but I'm a very competitive person!
What can companies do to address some of these barriers for women?
My foreman in my first year really valued having a 50-50 ratio in his crew and he worked really hard to hire that way. We really strive to have diversity and a 50-50 representation of men and women, and it doesn't always happen, but there is a huge commitment from our company to see that through.
We also have women in leadership roles specifically in the tree-planting sphere. Having a female supervisor in a camp changes the dynamics. In my experience, a female supervisor tends to listen and include everybody's voices and perspectives. Even if you're just talking about the plan for the next day. And in my office specifically, my manager is strong female leader who came up as a tree planter and I think her presence in a senior leadership role has definitely had a trickle-down effect in our office. We have a female-dominated office, I think it's the only one in the company, and I think a lot of that is a testament to her leadership.
From a company perspective, what I like to do is research the demographics of the population in the area that we are working. I think your workforce should reflect those demographics. If you're working in a northern region and there is a high percentage population of Indigenous people, it's so important to be inclusive of those people in your workforce. In Thunder Bay there is a higher population of South Asians coming to our city and it's important to include them in your workforce.
On a higher level, having ESG [Environmental, social, and governance] commitments and linking executive pays to meeting ESG commitments. My manager has personal commitments and it plays out in our office.
Senior leaders have a unique opportunity to set the culture and to really reinforce what matters to your company and to live out those philosophies. I think that's a neat concept for companies to consider.
What advice do you have for those considering a career in tree planting?
Things are so different for people who are tree planting now because of how much information is available to them. When I applied to tree-planting, I was literally mailed a physical package and told to meet on this day and at this time! Now there is so much information – which I think is good and bad.
My advice is to just do it. Know what you're getting into but don't overthink it. The internet is saturated with really positive but also really negative stories. You can get in your head about what tree planting is but you can never really know until you experience it. Take a leap of faith. It was one of the best things that I've ever done. It's so good, at least from my perspective, for mental and physical health.
If you're thinking that this is right for you – go for it!
This post is part of CFI, Pulp & Paper Canada and Canadian Biomass' Women in Forestry series celebrating International Women's Day on March 8. Find more content here and follow us on social media with the hashtags: #WomeninForestry, #IWD2022 and #BreaktheBias.
Remember to join us for the Women in Forestry Virtual Summit on Mar. 8 at 11 am ET/8 am PT! It's FREE to register. Sign up now!
Planting roots: Q&A with tree planter Sarah Ambroziak
March 3, 2022
---
By
Maria Church
---
Presented by: